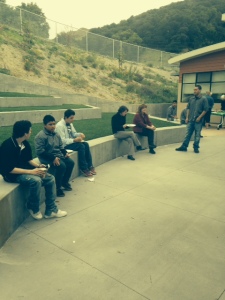 The Teen Success Breakfast has been going on for nine years now. Can you tell us a little about it?
KV: We serve [breakfast] from 10:15-10:30, it's short and very sweet. The kids light up when they see us, fill their plates and their bellies and then spend some time just being together, peacefully and often enjoy a quick match of ping pong. There's a lot of humor and love. It is important that families share meals together, and that is exactly what this is and the warmth that emanates will fill your heart much more than you could imagine!
Who does it serve?
KV: It serves high school students from Marin County who are enrolled at the Marin Community School. It's a academic supportive school, helping students fill in the gaps that they have missed, so it is a bit of a revolving door for some, but some have also stayed. It's hard to say since we don't really ask too many questions or dig deep into their individual stories. The kids really respect us for that.
How often do you do this?
KV: It used to be just three days a week but we now serve every morning because a teacher there has joined on to make it happen every day. The school principal and the staff constantly tell us how great our program is and that keeps it going.
Can you share a success story?
KV: Our success stories have been just the receptiveness of the students, their thank yous, kindness and willingness to help carry things, set up and interact with us. If for some reason we are absent one day it really upsets them. They worry about us and really question you "where were you yesterday?" We are a constant warmth in their hectic lives. We are a routine and something they expect will come thru for them. For example whenever I show up it's big cheers for "hey Marcus" [her son] and hey shout out "quesadillas!" Because that's what I bring every Tuesday and haven't changed that since they are so happy and comfortable with it.
How is the Teen Success Breakfast funded?
KV: It's funded by a grant from Marin Charitable, and money also comes from volunteers and parishioners of St Paul's.
(A portion of the church outreach budget goes to this program. The Rev. Christopher Martin says that it was originally an after school program but the principal requested that they serve breakfast instead since kids were often showing up late to school or just hungry.) 
What makes you the most proud about this program?
KV: How we model giving without asking any questions; Asking only if they want more to eat. They have a lot of people in their lives telling them what they need to do. The staff has also said that the students have really benefitted from the relationships they have with us: How to approach and talk to people in their community that they might not normally have the opportunity to. The interaction has softened their defenses.
(click on any image below for a bigger view)
Get involved…
Teen Success Breakfast
Who: Probationary Youth at the County Community School served by Marin Episcopalians, many from St. Paul's.
What: The Teen Success Breakfast – hot breakfast served to order
When: Five mornings a week at 10:20am, plus prep time
Where: The County Community School at 1111 Las Gallinas Avenue, San Rafael
Why: Because without it, the students show up late and hungry and, like all of us, they need to know they are loved
How: Contact Beverly Armstrong at nevbev@sbcglobal.net or (415)454-4015 to schedule a 'come and see' visit.