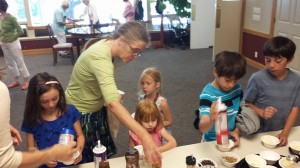 Nursery Care-Infant through Pre-K Sunday 9:45am -11:45am
Children of all ages are welcome to participate in our worship, but we do have childcare available each Sunday for our youngest parishioners.
Kids' Program – Kindergarten – 6th Grade – Sunday 9:50am

Our mission at St. Paul's is succinct and clear, following Jesus together in worship, prayer, and service.   Our mission for our children's ministry is to allow our children to grow into this as we walk alongside them on this journey.
Each Sunday we will gather as a whole congregation for announcements and the opening hymn.  For our family service on the second Sunday of each month we would like the children to stay for the entire service.  There will be heavy youth participation and Jim Ward will deliver a youth focused sermon. On the remaining Sundays children will gather in the Narthex as the congregation sings "Glory to God in the highest" and follow the youth leader of the day to the scheduled activity.  Children will return to their parents in time to receive communion together.
Our mixed age program is focused on children in grades K-6.  Over the course of each month children will participate in Godly Play, worship, fellowship, singing, and a simple service project.
The basic structure of each month will be like this:
1st Sunday-Godly Play
2nd Sunday-Family service with heavy youth participation
3rd Sunday-Service project
4th Sunday-Worship and singing lead by the Wards
5th Sunday-Assorted religious education, fellowship, or service opportunity
While there is variation week to week, you don't have to worry about keeping track of it.  Just start in the church each morning and the kids will stay or go as appropriate.
Older children are encouraged to be in church and to check out Marin Episcopal Youth Group.  Contact Daniel London at daniel.london@gmail.com for more information on that.
How you can help:
-Be here on Sunday mornings.  Having friends at church that are there regularly makes it better for adults and kids alike.  Your presence matters.
-Encourage your older children to become readers and acolytes as they mature into these responsibilities.
-Help on a service project Sunday.
-Bring additional snacks and treats for coffee hour.
More info:
Katy Dombrosky, Kids' Programs Coordinator
kdombrosky@gmail.com
Current Kid's Program News
---
Youth Group – Sun 5pm, ages 11-18, Church of The Nativity, San Rafael
St. Paul's participates in a collaborative youth ministry with four other Episcopal churches in Marin – Nativity, Redeemer, St. Francis and Christ Church. Junior High and Senior High Youth Group meet in the upper rooms of the Episcopal Church of the Nativity on Sunday evenings at 333 Ellen Drive in San Rafael.
Mission: To encounter Christ in Scripture, prayer and service to the poor. We will pursue this mission by wrestling with lectionary-based lessons, practicing Compline prayer, and serving the poor in creative ways.
More info:
The Reverend Daniel London, Youth Group Leader
daniel.london@gmail.com / 408-823-8232
www.facebook.com/MarinEpiscopalYouthGroup
Hello – One sweet note that still runs strong throughout the American Holiday Season is the impulse to reach out to those in need. Here are four glimpses into how St. Paul's has done and is doing just that: • Check out the great picture on our Facebook page (https://www.facebook.com/stpaulssanrafael) of the big crew that […]