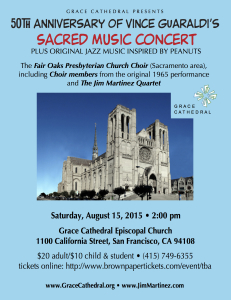 Saturday, August 15, 2015 2 pm
A performance of Guaraldi's jazz setting of the Choral Eucharist and other Guaraldi favorites by the Jim Martinez Trio with the Fair Oaks Presbyterian Church Choir and original choir members from the 1965 concert and recording.
Tickets: $20 adults/$10 students available from Brown Paper Tickets.
ABOUT THE PERFORMANCE
"In a year that also saw Duke Ellington, Dave Bruceck and Lalo Schifrin write jazz-based pieces for the church, Vince Guaraldi may have come up with the most effective sacred work of the four." —Richard S. Ginell, All Music Guide
As part of the celebration of Grace Cathedral's completion in 1965 and especially to engage young people, Bishop James Pike enlisted the Rev. Charles Gompertz, a young priest in Novato, to "fill the cathedral." Gompertz heard Cast Your Fate to the Wind (a B-side surprise hit by pre-A Charlie Brown Christmas Vince Guaraldi) and promptly convinced Guaraldi to write something for the church.
"Bach, Brahms and Beethoven all wrote masses, so why not me?" Guaraldi agreed.
With Tom Beeson on bass, Lee Charlton on drums and a 68-member choir from San Rafael's St. Paul's Episcopal Church, Guaraldi performed "a modern setting for the choral Eucharist." The composition includes the beguiling Theme to Grace, which became a hit single in the Bay Area.
No American church had ever used jazz in a service before. Indeed, it may have been the first time in the world, as the only earlier known precedent, a jazz mass composed by a priest in London, was only ever performed after regular services.
The concert on August 15 will feature Jim Martinez, a Guaraldi specialist, and his trio along with the Fair Oaks Presbyterian Church Choir and original choir members. The ensemble will perform new arrangements of Guaraldi's Live at Grace Cathedral, and other Guaraldi favorites.
Music critic Ginell called the composition "intimate, unpretentious and undeniably emotional," in addition to deeming it the best sacred jazz music of the year despite heady competitors such as Duke Ellington. But judge for yourself! Follow up the Guaraldi concert by purchasing tickets to the 50th anniversary of Ellington's Sacred Concert on September 17.
ABOUT THE COMPOSER
Vincent "Vince" Anthony Guaraldi (July 17, 1928 – February 6, 1976) was a jazz pianist and composer, best known for writing music associated with the most beloved and influential American comic strip, Peanuts. He was born just blocks away from Grace Cathedral, in North Beach, and attended Lincoln High School and San Francisco State University. He won a GRAMMY for Best Original Jazz Composition in 1963 for Cast Your Fate to the Wind. It was hearing this song on the radio in a taxi on the Golden Gate Bridge that led producer Lee Mendelson to hire Guaraldi to compose the score based on Charles Schulz's comic strip. Guaraldi went on to compose the scores for seventeen Peanuts television specials. He died unexpectedly, probably due to a heart attack, and is buried in Colma.
ABOUT THE ARTIST
Pianist Jim Martinez is a Steinway Pianos Artist and has performed or recorded with Jazz notables Lionel Hampton, the Stan Kenton Alumni, the Nelson Riddle Orchestra and Ed Thigpen, the first drummer for the famous Oscar Peterson Trio. Martinez has also performed with the Sacramento Symphony and toured as a featured guest with the U.S. Air Force Jazz Band from Travis AFB. He has worked as pianist and musical director for Joan Rivers and Bob Newhart. His latest CD is Good Grief! It's Still Jim Martinez: A Tribute to Guaraldi, Schulz, and Peanuts.
– See more here