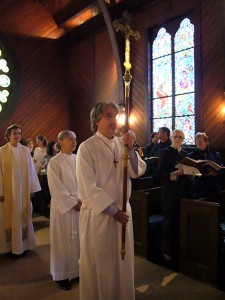 Praising God and serving St. Paul's go hand-in-hand when you belong to the Altar Guild.  Did you know that St. Paul's Altar Guild is one of the oldest groups in this parish still in existence? It was chartered shortly after this parish was established in the 1860s.  We care for the Altar and all that goes with it; ours is a sacred, behind-the-scenes-ministry.  And if you like worship with your hands, literally, – arranging flowers, ironing delicate linens, polishing beautiful silver and brass and making the sharing of Holy Communion possible,  then we're the ministry for you!
We set up for every service, whether it's 8am Rite I, a baptism, wedding or memorial service or the Easter Vigil. And then we clean-up after.  We make sure that Christopher and other service leaders have everything they need so that each service goes smoothly. We arrange the flower and coordinate the Altar flower dedications. We make sure the Holy Hardware – chalices, lights, candles, home communion kits and more – are in good working order, and that Yahweh's Yardgoods – vestments, linens and banners – are cleaned, ironed, repaired and used in the appropriate liturgical season.  We bake the bread, set up the wafers and make ready the wine and water.
We provide the opportunity to go 'behind the scenes' as we set the Lord's table and slather TLC on our beautiful Church. What's required?  One hour prep work on Friday or Saturday only once a month and a quick 15 minutes before and after one of our Sunday services once a month. That's it.  We provide plenty of training and oodles of support. You get countless blessing.
We also have a strong connection with the Diocesan Altar Guild, connecting us with the wonderful people,  best practices and fresh ideas of other parishes in our Diocese.
We perform our Altar Guild duties – working in beautiful St. Paul's – as a joyful blessing, giving thanks for this parish and its people.  Join us!  Contact Judy Rowcliffe at 415 456 4131 or jlrowcliffe@comcast.net for more information.